Message code: 1974340
October 30, 1402 at 4:01 p.m
1.4K views |

1position

The Kobel Football Association Referee Committee announced the officiating of the Premier Futsal League Week 11 matches.
According to Verzeh Se's report, Week 11 of the Futsal Premier League will be followed by seven matches on November 5, after which this week's referees have been announced by the Referees Committee. Gitipasand meets Hafez Sari on Vahid Zarepima's supervision day. In this game, Javad Ehtsham and Ebrahim Mehrabi Afshari will play the whistle. Iman Gholami and Youssef Sadeghi will also officiate the match between Messongun and Iralko Arak.
The delicate duel of the week between the teams of SenH Saveh and SefirGovtman from Tehran is organized by Hossein Tawana and Amir Bagheri.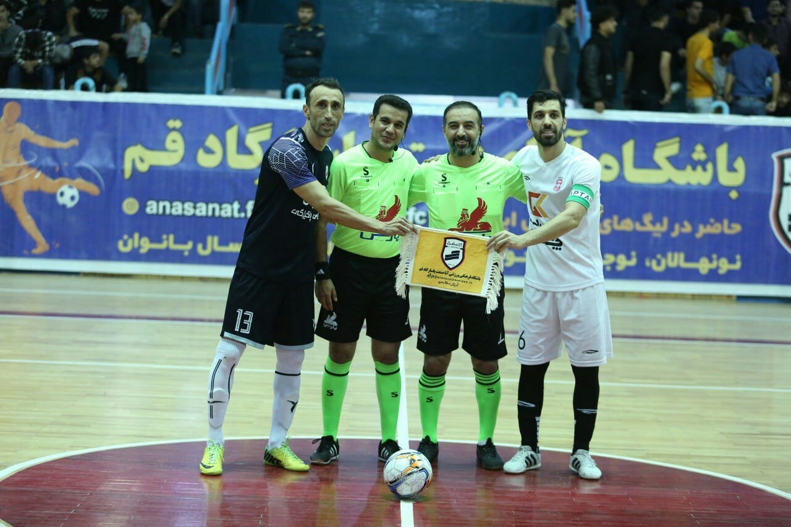 * The names of the referees for Week 11 of the Futsal Premier League are as follows;
Thursday, November 4th
Mes Songun and Iralco Arak
Judges: Iman Gholami, Youssef Sadeghi, Ismail Kamrabasteh, Mohammad Reza Seyyedpour
Supervisor: Yahya Talari
Senator H. Saveh and Ambassador of the Discourse in Tehran
Judges: Hossein Tawana, Amir Bagheri, Majid Akbari, Mehdi Kurd
Supervisor: Ebrahim Masibi
The Resistance of Alborz and the Iranians by Zarand Stahl
Judges: Hamidreza Qudsi Ragheb, Behnam Okhti, Amir Lamayi, Ehsan Aliari
Supervisor: Alireza Ramezani
Bandar Abbas and Ana Sanat Pasargad Qom Oil Refinery
Judges: Majid Farahani, Mohammad Ali Siyahi, Mehdi Sadeghi, Milad Mastan
Supervisor: Abdul Karim Sistani
Sirjan land and Saveh community
Judges: Hossein Amiri, Ehsan Nemati, Milad Saeedi, Ismail Nemati
Supervisor: Korosh Hashemi
Elvand Qazvin crop and Ara Mashhad carpet
Judges: Mehdi Taheri, Behnam Nabipour, Hamid Soleimani, Bahadur Nowrozi
Supervisor: Mehran Jafari
Gitti Pasand from Isfahan and Hafez sari clothing
Judges: Javad Ehtsham, Ebrahim Mehrabi Afshari, Mojtabi Bakhtiarian, Javad Dehghani
Supervisor: Vahid Vare Pima